Mike Pecci cleverly uses ferrofluid in his new thriller "12 Kilometers"
"I REMEMBER A WORLD BEFORE THE NIGHTMARES. THE FEAR. THE DEATH. BEFORE WE FOUND IT. BEFORE IT FOUND US." - 12 KILOMETERS
In the vast expanse of Northern Russia, a team of Soviet scientists drill deep into the earth's core. A secret cold war experiment is taking place – and the Russians have hit record depths below the earth's surface. At 12 kilometers deep, they reach the deepest point that man has ever been. What they uncover defies all expectations, initiating a disturbing chain of events where their delicate mortality becomes a fixture for survival. A sentient black liquid has been liberated from the darkness below – evil manifest. The Soviet team have unearthed a horror so pure in its manifestations that every shred of sanity is lost as its victims fight for their lives. Manipulated by sound, the dark entity feeds on fear, consuming victims from the inside.
Wildly creative and ambitious film director Mike Pecci is the artist, photographer, and film director behind the thriller that is "12 Kilometers." This is his latest endeavor; a science-inspired feature film that stars ferrofluid as the bad guy. 12 Kilometers was launched on Kickstarter in 2014, exceeding its fundraising goal by thousands, and set to launch in 2015 to an eagerly awaiting crowd of supporters and fans.
12 Kilometers represents a culmination of Mike Pecci's 15-year-long career in short film, photography and commercials. Concept Zero sat down with Mike to talk about how he got his start, his burgeoning film practice, and highlight his expansive portfolio of work as our newly featured artist.
EARLY YEARS AND PHOTOGRAPHY
After graduating from NY Film Academy (NYFA), Mike was presented with the challenge of forging a new career in film without having access to the big budgets, tools or resources required to produce feature films. He discovered and pioneered new and innovative ways to bring his ideas to life. "My photography career picked up faster than my film career…. I couldn't afford a good cinematographer" Mike says. He improvised, "I spent years perfecting the craft of being a cinematographer using photography….It was cheaper for me to shoot photographs to develop my technique."
Mike's photography work became just as much of an important part of his practice than his film work. In his End of the World Fashion series, Mike unites post apocalyptic gore and grit with high fashion, with remarkable results. Mike's work with Boston University brings us into the lab and classrooms, side by side with the students, to experience the essence of an academic institution. Living Images represent an innovative photographic technique that will put animated GIFs to shame – still photographs are brought to life with subtle moving elements and rich visuals. Mike's photography speaks for itself, with a dynamic style that conveys everything from the intensity of a research lab, to the thrill and terror of a grindhouse horror. Mike works within a wide scope of subject matter, producing rich and emotional experiences, reflecting his skill in communicating with his audience as an artist.
"I'VE SPENT YEARS DEVELOPING AS BOTH A DIRECTOR AND A PHOTOGRAPHER."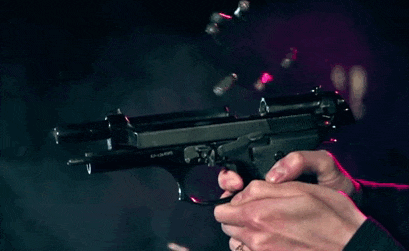 While managing his successful photography practice, Mike began producing and directing short films, music videos and commercials in his trademark style. Mike says "I grew up loving neo-noir, grindhouse, and 80s & 90s action and horror films." His directing style is dark and gritty, paying homage to the genres that inspire his work. The controversial film " The Dead Can't be Distracted " features Marvel Comic's "The Punisher", portraying him as a character with depth and emotion. But Mike couldn't show the film – Marvel Comics said no to the idea. "Fan films are not about profit" Mike says, "For us it was never about making money, it was about proving that Frank could be cool again."
THE STORY OF 12 KILOMETERS – IT'S AMAZING WHAT A CRACKED SKULL CAN DO FOR YOU.
Inspiration strikes at the strangest of times. The foundation of 12 Kilometers was laid out while Mike himself was laid out, recovering from a serious head injury in the hospital. Mike cracked his head open on the ice during an ill-fated skating adventure. He experienced multiple concussions and a hematoma – the buildup of fluids in his head put an extreme amount of pressure on his brain causing some very interesting neurological side-effects. Mike experienced wicked nightmares that brought him deep into the dark abyss of creativity. For a horror film enthusiast, this is not such a bad thing. Mike recalls, "putting the fluids through brains and organic materials is scary as hell"
During his 2-month recovery Mike had plenty of time to think about things. The hematoma incubated an enhanced level of thinking; although not quite at super-hero mutant level, it opened up a new perspective. The dark nightmares he experienced had informed the 12 Kilometers storyline, and the recovery process revealed a new approach to how he would make it happen.
"THE TRUTH OF IT IS THAT I LOVE SCARING PEOPLE, I REALLY DO, AND THIS FILM SCARES ME"
Mike found that his recovery updates were capturing a huge amount interest from his friends and family. A new path had presented itself to Mike – It was his story that people are interested in hearing about, just as much as the story of 12 Kilometers. Mike made himself part of the the story. 12 Kilometers is just as much about his recovery story and creative process as it is about feature film. People wanted to hear his story, and Mike's constant drive to "refresh the creative process" fueled a new approach.
A film set in the 1980's in Russia would not be truly authentic unless Russians were cast. Sitting through long sessions with actors whose only language is Russian proved to be an immersive experience for Mike. While casting posed a number of unique challenges, filming the evil antagonist of the movie would prove to be a challenge requiring innovative thinking. Ferrofluid is a high maintenance performer, not content to simply read out lines and follow the script. To ensure the best possible artistic direction for the black liquid Mike partnered with ferrofluid artist Linden Gledhill (Concept Zero's first featured artist ). Linden has forged a name for himself as an artist "who explores the physical world at different image scales and fragments of time". Using his expert eye on revealing new visual paradigms within microscopic worlds, Linden and Mike had brought to life the monster that would terrorize the Soviet scientists in 12 Kilometers.
Mike is a highly creative and talented filmmaker who takes pride in his ability to collaborate with others, working with artists from all corners of industry. Mike maintains a strong connection with his audience that is further reinforced by his natural storytelling abilities. He brings his ideas to life with such realism and tangibility that you can easily become part of the scene. From being splattered with blood from a fresh chainsaw wound, your flesh torn into by a zombie, or your body invaded by ferrofluid, the power of emotion quickly becomes physical when confronted with the immersive visuals and equally compelling subject matter that Mike presents through his work. We are proud to be avid fans of Mike Pecci's work. As part of our expanding group of ferrofluid artists, we are equally proud to feature Mike as our newest featured artist.
Mike Pecci Official Site : http://mikepecci.com